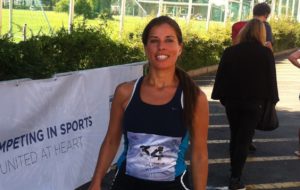 Az Európai Maccabi Szövetség vezetőképzési programjának (Future Leaders Forum) tagja, az izraeli származású Yaarit Rahamim könyvet írt a Maccabiah résztvevőiről. A Hall of the Maccabiah című, fotóalbumként is szolgáló könyv 2017-ben a Maccabiah 20., az egyesült Jeruzsálem 50., a Balfour-nyilatkozat 100. és a Cionista Világkongresszus 120. évfordulója alkalmából jelenik meg.
Az írónő több mint 100 interjút készített a Maccabiah sportolóival, vezetőivel, az egyes Maccabi tagországok Maccabi elnökeivel és önkénteseivel, valamint a világszerte ismert zsidó sportikonokkal. A könyvben többek között Jusztin Ádámmal, a Maccabi VAC elnökével és Keleti Ágnessel, a többször magyar olimpiai bajnok tornásszal készült interjú is olvasható. Az interjúk különböző sorsfordító pillanatokat és döntéseket fogalmaznak meg. Az egyéni és közösségi motivációk szerepe kiemelt figyelmet kap a könyvben.
Yaarit Rahamim a könyv megjelenéséhez szükséges támogatást az Indiegogo közösségi finanszírozással foglalkozó oldalon fogja összegyűjteni a novemberben debütáló kampánya révén. A magyar Maccabi közösség nem csak számos interjúval járul hozzá a könyv sikeréhez, hanem egyéb szakmai támogatással is. Az Indiegogo kampány design munkáját Tasnádi Olivér, míg a könyvet bemutató videót Szelei Dóra, a Maccabi VAC önkéntesei készítik. Továbbá Burián Barbara, a VAC önkéntese és az Európai Maccabi Szövetség Future Leaders Forum című programjának egyik vezetője segít a kampány összeállításában és menedzselésében.
A Hall of the Maccabiah 6000 példányban héberül, angolul és spanyolul kerül publikálásra a 2017-es Maccabi Világjátékok előtt.