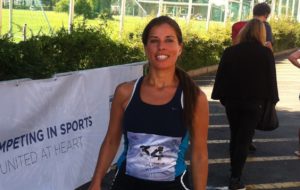 Yaarit Rahamim, member of the European Maccabi Confederation's Future Leaders Forum wrote a book about the participants and contributors to the Maccabiah. Titled "The Hall of the Maccabiah", the photo album will debut as a tribute to the Macabbi's 20th, united Israel's 50th, the Balfour declaration's 100th, and the Zionist World Congress' 120th anniversaries. Miss Rahamim conducted more than 100 interviews with the Maccabiah's athletes, leaders, respective presidents and volunteers, as well as well known Jewish athletes. Among these leaders is Adam Jusztin, the president of the Maccabi VAC, and Agnes Keleti, the Hungarian gymnastics champion. The interviews are full of insight and wisdom. The book also highlights the importance of private and public motivations in the community. Miss Rahamim plans to win sponsors for her book from the site Indiegogo by the end of November.
Check the campaign!
The Hungarian Maccabi community not only provided interviews, but with many other professional sponsorships and support. The campaign design for Indiegogo is designed by Oliver Tasnadi, and the film introducing the book is created by Dora Szelei, both volunteers for the Maccabi VAC.
In addition, Barbara Burian, volunteer to the Maccabi VAC and a leader of the European Maccabi Confederation's Future Leaders Forum, is helping with the organisation and management of the campaign. The book will be available with 6000 copies in Hebrew, English and Spanish before the 2017 Maccabi World Games.