Híres zsidó sportolók és sportvezetők Magyarországon
A Maccabi VAC minden héten bemutat egy hazai zsidó sportolót, sportvezetőt, metszénást, edzőt, aki meghatározó szerepet töltött be a magyar és az egyetemes sportéletben.
Bellák László
(Budapest, 1911. február 12. – Miami, 2006. szeptember 19.)
világbajnok asztaliteniszező.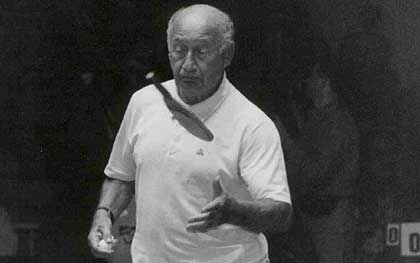 1924-től a Nemzeti SC, majd 1932-től az FTC asztaliteniszezője volt. 1928-ban kezdte válogatott pályafutását. Tíz év alatt, 1938-ig összesen 21 világbajnoki érmet szerzett. Közülük hét aranyérem. Három egyéni világbajnoki döntőjét mindannyiszor honfitársai ellen veszítette el (Mechlovits Zoltán, Barna Viktor). 59-szer volt magyar válogatott. 1936-ban két magyar bajnoki címet szerzett.
1938-ban az Egyesült Államokban telepedett le, ahol tovább folytatva sportpályafutását, hat amerikai bajnoki címet szerzett. Az aktív sportolást 1944-ben fejezte be. 1950-ben Miamiban nyomdát alapított Bellak Color Corporation néven. 1990-ben Miamiban kiadta visszaemlékezéseit Tabletennis How a new Sport Was born? The History of the Hungarian Team címmel. Az Egyesült Államokban halt meg.