Yom HaAtzma'ut – Israel's 73 Independence Day:
A Maccabi tribute to Maccabi Tzair Olim, fallen soldiers
Dear Friends,
So many personal stories are part of the national memory of our young State of Israel, reaching this Wednesday evening 73 years of existence as the Third Jewish State in the Land of Israel [1]. These are stories of heroism, bravery, total commitment and deep love for this country, the Jewish State; stories that, in a way, consolidated our reborn national life.
Tens of thousands of Israelis fell and hundreds of thousands more were wounded in Israel's defense, leaving a heavy weight of emotional turmoil and damage on those who established and day-by-day built and build the Jewish State – the brutal price we have paid and still pay as a People to recover our national life in our Ancestral Land. These are the stories of personal loss – young Israelis who gave their own lives for this country to continue its existence. On this Yom Hazikaron le'Chalalei Ma'arachot Yisrael ("Day of Remembrance for the Fallen in Israel's wars"), we, the Maccabi Movement, commemorate the lives of Maccabi Tzair Olim from all over the world – young Maccabim who immigrated to the State of Israel to join the People of Israel here – who lost their lives defending the State of Israel in its many wars. We join the sorrow of the families of the 23,928 casualties in wars and terrorist attacks who are mourning their loved ones, by honoring our 59 young Maccabi olim who died fighting for our right "Lihiot Am chofshi beartzeinu, eretz Tzion v'Yirushalaim" [2] – our right to rebuild our national life in our Homeland. These young Maccabi Tzair soldiers were leaders at Maccabi Tzair branches in Argentina, Austria, Bulgaria, Cuba, Czechoslovakia (Czech Republic and Slovakia), Egypt, Germany, Greece, Hungary, Lithuania, Poland, Russia, Scotland and Yugoslavia. These are their names: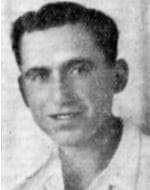 1. Zeev Rechnitz
2. Arthur Herstig
3. Itzhak Córdoba
4. Moshe Asa
5. Moshe (Sabo) Rachamim
6. Maurice Moshe David Katz Halevi
7. Daniel Levi
8. Erwin Reuben
9. Aaron Kenner
10. David Matrani
11. Baruch Friedlander
12. Michael Schlesinger
13. Avi Altman
14. Menashe Dechinger
15. Joseph Shaya Man
16. Zeev Rotman
17. Mordechai Plonsky
18. Mordechai Lichter
19. Meir Brown
20. Dov Bernhard Spitzer
21. Zelig Wolf Polkowski
22. Abraham Erlanguer
23. Moshe Moritz Tempelhof
24. Hans Gluzman
25. Hans (Chanan) Lehman (Leiman)
26. Lavi Zinger
27. Shmuel Socher
28. Shaul Netter
29. Hugo Zvi Jacobson
30. Dov Otelsberg
31. Yochanan Fleischer
32. Tzvi Schiller
33. Isaac Roth
34. Zvi Lifshitz
35. Benjamin Engelman
36. Dov Weiss
37. Baruch Spitz
38. Shlomo Mautner
39. Yosef Shlomo Gross
40. Zeev Zinger
41. Eliezer Teichner
42. Asher Pardo
43. Mordechai Marco Bachar
44. Meir Rachamim Arusi
45. Isaac Avot
46. Moshe Gil (Martzuk)
47. Eliyahu Eli Cohen
48. Joseph Frucht
49. Moshe Chaim Shifrovitz
50. Yechezkel Regul
51. Uri Zimson
52. Zvi Ricard Laichter
53. Moshe Aroesti
54. Itzhak Strostinsky
55. Daniel Leibowitz
56. Ehud Ben Zvi Drexel
57. Yehuda Hans Glicklich
58. Nathan Schwartz
59. Nehemiah Steiner
Yehi zichram baruch.
Out of all these heroes, here is one story: the story of Asher Pardo, Z"L – one of our Maccabi Tzair olim who gave their lives for our Nation.
Asher (Achko) Pardo, son of Asteria and Aharon (a veteran and active Zionist in Bulgaria, member and leader of Maccabi Tzair Bulgaria), was born on July 6, 1918, in the city of Thessaloniki, Greece. When he was 5 years old, he lost his mother and returned with his father to the city of Plovdiv in Bulgaria. After two years he lost his father as well and was educated at the home of his grandmother and uncles. Asher graduated with honors from a Hebrew elementary school and Gymnasia, was active as an instructor (madrich) at Maccabi Hatzair Bulgaria, and from 1935 was one of the leaders and activists of our pioneering Movement.
The British Government brutally limited the entrance of Jews to their Homeland – the Land of Israel. In February 1941 together with his wife, Asher led the first group of "illegal immigrants" to the Land of Israel from Bulgaria who came on the ship "Dorian". He was captured by the repressive British authorities, and sent to detention camps in Acre and Atlit. After a year and a half of imprisoned there, he was released.
At the beginning of 1945, the family moved to a camp in Kfar Saba, and since then Asher devoted himself to our Movement working as a liaison between the Bulgarian pioneers – Asher worked hard to organize immigration and care for youth groups who immigrated to Israel.
His service in the Movement delayed his entry with his "Eyal" group to the settlement in Dedera, east of Hula – but during the War of Independence, when the group needed reinforcements, he was sent there. Asher died in Dedera on Tuesday, 9 of Tammuz, 5708 – July 16, 1948. He was buried in Dedera. Asher left behind his wife, a daughter, Noga, and a son who was born after his death.
Asher wrote a poem for his daughter Noga – a poem about the kisses he would give Noga and the kiss he would get from her after the battle. Those kisses were lost in that final battle of 1948. This is a simple, beautiful poem:
FROM FATHER TO NOGA
Caution! Slowly!
Here I buried kisses for Noga
This is the daughter – my daughter!
Her lips are sweet
And her eyes – pure fire!
How beautiful and big they are!
And her cheeks – apples
Her hair is curly
Caution! One by one of my buried kisses!
Give one kiss to mom
and take one for you…
Caution! Open slowly!
No kiss will run away.
And one kiss, very warm,
Keep well-guarded for me…
I'll get it back one kiss from you
When I return to you – after the war…
Our Nation cries during Yom Hazikaron for the loss of our Children – they were those who gave all the Jewish People, everywhere, the opportunity to celebrate another year of Israel's Independence. Their sacrifice and the sorrow of so many families were and are the terrible, huge token that made the State of Israel possible for all Jews everywhere – a State that keeps on growing, developing and astonishing, even under so many challenges.
Medinat Israel is the chessboard of our nation: a country built through laborious effort and great suffering; a country today universally recognized as one of the world's most advanced. While assessing the sacrifice entailed and the means employed to ensure its existence, let's celebrate Israel's 73 years of freedom and recognize the historical and divine redemption its establishment brought to our People, persecuted and decimated so often in our history.
On this 73 Yom HaAtzma'ut, may we all be blessed in the joy of witnessing the growth and flourishing of our small but great State, in peace, recognition and acceptance by the Nations of the Earth, of our dream of a united Jewish People returned to Eretz Tzion ve'Yerushalayim, the Land of Zion and of Jerusalem, Eternal Capital of our People.
May God bless the State of Israel, which marks the beginning of our national Renaissance, the rebirth of our pride and our Future as a People.
Chag Ha'Atzma'ut Sameach!
Chazak ve' ematz!
RABBI CARLOS A. TAPIERO
Deputy Director-General & Director of Education
Maccabi World Union
[1] The First Jewish State began in the Conquest of the Land of Israel (Time of the Judges, 13th century BCE) and fell at the end of the era of the reigns (initiated by King Saul) with destruction of the First Temple by Nebuchadnezzar and the Babylonians (586 BCE). The Second State followed return of the Jews from the Babylonian Exile in 537BCE facilitated by the region's new overlord, Cyrus King of Persia, and destroyed by Titus in the year 70CE after 3 years of the Great Jewish Revolt against Rome.
[2] A quote of Hatikvah, Israel's National anthem.