THE LIFETIME ACHIEVEMENT AWARD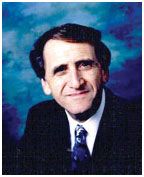 ALAN SHERMAN
Honored: 1997
Location: Potomac, Maryland, United States
Alan Sherman has been one of the most significant Americans engaged in Israel-United States sports relations. A long-time vice-president of Maccabi USA/Sports For Israel since 1973, the Potomac, Maryland realtor is primarily recognized for his leadership of U.S. participation in the quadrennial World Maccabiah Games.
Serving from 1973 to 1989 on the International Maccabiah Committee (Maccabiah equivalent of the International Olympic Committee), Sherman was all-sports chairman of U.S. teams organized for the 1977 and 1985 Maccabiah Games, and was the U.S. team's general chairman from 1977 to 1979. He introduced the heralded Maccabiah "Pre Camp Program" in 1985 at Rutgers University; where four years later, initiated an expanded version of Jewish-Israel orientation for all American athletes that has become a staple of the Maccabiah "experience".
Alan Sherman conceived and founded the North American (now JCC) Maccabi Youth Games (for athletes 16-and-under) that made its debut in 1982 in Memphis with 300 athletes. The event currently registers more than 6,000 participants annually. He was also instrumental in the early development of the Israel Tennis Centers.
In 1978,Alan Sherman organized a basketball exhibition tour of Israel by the NBA World Champion Washington Bullets. He later organized two U.S. tours by the amputee volleyball team of Israel's Beit Halochem, and initiated USA/Sports For Israel's support for the Israel Sport Center for the Disabled. In 1980 he organized a successful tour of Israel's World Champion wheelchair basketball team on the east coast to be followed by another tour in 1982 playing in eight cities.
For many years Alan Sherman was United States liaison to the Israel Olympic Committee and Israel Sports Federation. Since 1989, he has been Chairman of the International Jewish Sports Hall of Fame, and since the early 1990s serves as president of American Friends of Wingate Institute for Physical Education and Sports. He is a member of the executive committee of Maccabi USA/Sports for Israel as well as an executive committee member of the United States organizing committee for the Maccabiah Games.
The Lifetime Achievement Award is presented annually, honoring those individuals who have made significant contributions to the State of Israel and society through sports.
http://www.jewishsports.net/LifetimeBioPages/Alan_Sherman.htm