Kfar Maccabiah, April 2023
ניסן, תשפ"ד
Yom HaAtzma'ut – Israel's 75 Independence Day
Sariel Katz, Z"L: Maccabi honors one of Maccabi Tzair Israel fallen soldiers
Dear Friends,
So many personal stories are part of the national memory of our young State of Israel, reaching 75 years of existence as the Third Jewish State in the Land of Israel[1], this Wednesday evening. These are stories of heroism, bravery, total commitment and deep love for this country, the Jewish State; stories that, in a way, consolidated our reborn national life.
Tens of thousands of Israelis fell and hundreds of thousands more were wounded in Israel's defense, leaving a heavy weight of emotional turmoil and damage on those who established and day-by-day built and build the Jewish State – the brutal price we have paid and still pay as a People to recover our national life in our Ancestral Land. These are the stories of personal loss – young Israelis who gave their own lives for this country to continue its existence. On this Yom Hazikaron le'Chalalei Ma'arachot Yisrael ("the Day of Remembrance for the Fallen in Israel's wars"), we, the Maccabi Movement, commemorate the life of Sariel Katz, Z'L, one of our Maccabi Tzair Israel educators who lost his lives serving the State of Israel. 
Sariel was a Maccabi Tzair Israel educator who will forever be remembered with admiration and respect. Born on a summer day in Netanya (30.8.1981), Sariel was a young man who lived a life full of kindness, love, and dedication. He excelled in his studies in Electronics-Computers, and devoted much of his time to the Maccabi HaTzair Movement, where he served as a madrich and technical expert at the Maccabi Tzair Netanya branch.
Sariel's kindness knew no bounds. His friendly nature and impeccable manners earned him the appreciation and gratitude of all those who met him and were helped by him. He was an exceptional athlete, excelling in basketball, and had a passion for computers. Sariel was not only a talented and hardworking individual, but he was also a devoted son who would make sure to help his parents, assisting them with their daily life – Sariel's father became handicap after a serious car accident, and needed special care. Sariel was always there for his parents.
Sariel was, in a way, "an example of gratitude", combining both secularism and religion in his life. His love and dedication to his community were unparalleled. Yigal Hayon, the Director of the Ort High School "Yad-Leibowitz" where Sariel studied, remembers Sariel as an outstanding graduate who deeply respected and loved the school staff and students. In the synagogue where Sariel used to go to every Friday evening and Shabbat morning, he is remembered as a gentle young man who used to shake hands to everyone, celebrate his status as a Cohen with his Priestly blessing, and project his voice in the spirit of holiness.
His dedication and hard work were further recognized when he served, as a soldier, at Havat Hashomer Israel Defense Forces Base. He was one of the best soldiers in the unit who fulfilled his role in an outstanding manner. Sariel was destined to become an IDF Officer… but his dream was cut short following the tragic terrorist attack that took his life.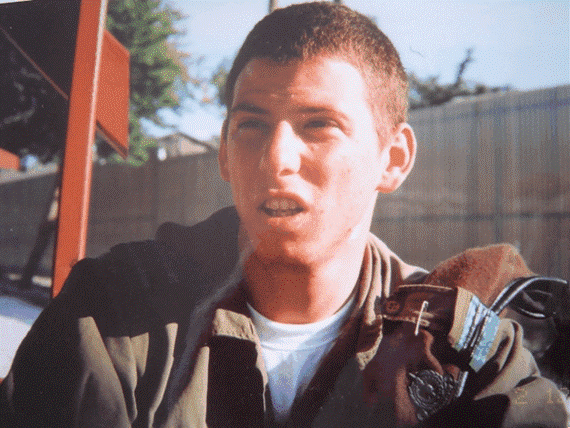 On Wednesday morning of June 5, 2002, Sariel was ill. He had permission to stay at home until getting better. Sariel decided anyways to serve that day as usual in the army, against his doctor's (and mother's) recommendations. It became a fateful decision. He took the bus to his army base, as he would do every day. When the bus reached the Megiddo intersection in the Yezreel Valley, at around 7:15 a.m., a terrorist car-bomb approached the bus and detonated its explosive charge near the tank of the bus. It was a suicide bomber. In a heinous act of terror, the explosion caused a devastating blast that flipped the bus on its side and engulfed it in flames. The attack claimed the lives of 17 people, including Sariel and other 12 soldiers, and left 43 others injured, with 4 of them in critical condition. The Palestinian terrorist Islamic Jihad organization claimed responsibility for the attack. Sariel was 20 years old.
Despite the national sorrow and anguish that this tragedy caused in the State of Israel, the resilient spirit of the Israeli people persevered, and stood strong in the face of terror.
Sariel's legacy will live on, and he will always be remembered as a loved and loving person, a good soul whose memory will continue to inspire us all – especially, but not only, in the rows of the Maccabi Tzair Movement worldwide. He was laid to rest in the military cemetery in Netanya. His memory will forever be alive in the hearts of those who knew him personally, and, also, in those who got to know his story of love to his family and to his country, the State of Israel.
Medinat Israel is the chessboard of our nation: a country built through laborious effort and great suffering; a country today universally recognized as one of the world's most advanced. While assessing the sacrifice entailed and the means employed to ensure its existence, let's celebrate Israel's 75 years of freedom and recognize the historical and divine redemption its establishment brought to our People, persecuted and decimated so often in our history.
On this 75 Yom HaAtzma'ut, may we all be blessed in the joy of witnessing the growth and flourishing of our small but great State, in peace, recognition and acceptance by the Nations of the Earth, of our dream of a united Jewish People returned to Eretz Tzion ve'Yerushalayim, the Land of Zion and of Jerusalem, Eternal Capital of our People.
May God bless the State of Israel, which marks the beginning of our national Renaissance, the rebirth of our pride and our Future as a People.
Chag Ha'Atzma'ut Sameach!
Happy 75 birthday, Israel!
Chazak ve' ematz!
RABBI CARLOS A. TAPIERO
Deputy CEO & Director of Education
Maccabi World Union
1) The First Jewish State began in the Conquest of the Land of Israel (Time of the Judges, 13th century BCE) and fell at the end of the era of the reigns (initiated by King Saul) with destruction of the First Temple by Nebuchadnezzar and the Babylonians (586 BCE). The Second State followed return of the Jews from the Babylonian Exile in 537BCE facilitated by the region's new overlord, Cyrus King of Persia, and destroyed by Titus in the year 70CE after 3 years of the Great Jewish Revolt against Rome