Híres zsidó sportolók és sportvezetők Magyarországon
A Maccabi VAC minden héten bemutat egy hazai zsidó sportolót, sportvezetőt, metszénást, edzőt, aki meghatározó szerepet töltött be a magyar és az egyetemes sportéletben.
Kárpáti Károly
(1906-1996)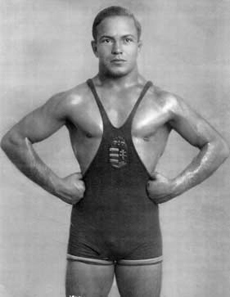 Kárpáti Károly, eredetileg Kellner (1906-1996) olimpiai bajnok birkózó, edző, szakíró, sportvezető.
Egerben született, Orvosi tanácsra kezdett el sportolni. A Debreceni Úszó Egylet műugrója volt. Ebben a sportágban 1924-ben vidékbajnokságot nyert. 1923-ban egy cirkuszi birkózó bemutató keltette fel érdeklődését a sportág iránt. 1925-től a Debreceni TE birkózó versenyzője lett. Még ebben az évben vidékbajnok lett birkózásban is. 1926-tól az UTE birkózója lett. Kötöttfogásban indult az 1928-as olimpián és negyedik helyezett lett. Ekkor ismerkedett meg a szabadfogású szakággal.
1927-től 1936-ig, összesen tizenkilenc alkalommal szerepelt a magyar válogatottban. A magyar birkózók közül ő volt az első, aki a kötöttfogású mellett szabadfogású birkózásban is jelentős eredményeket ért el, őt tekintik a magyar szabadfogású birkózóstílus kialakítójának. A fogásnemben máig ő a legeredményesebb magyar birkózó. Az 1929. évi párizsi Európa-bajnokságon ő nyerte a magyar szabadfogású birkózás első Európa-bajnoki érmét. 1930-ban és 1935-ben – mindkét alkalommal Brüsszelben – Európa-bajnoki aranyérmet nyert. Három olimpián vett részt, 1928-ban Amszterdamban, kötöttfogásban, 1932-ben Los Angelesben és 1936-ban Berlinben szabadfogásban indult. Súlycsoportjában 1932-ben ezüst, 1936-ban aranyérmet szerzett a német Wolfgang Ehrl ellenében. Az aktív sportolást az 1936. évi olimpia után fejezte be.
A második világháború alatt zsidó származása miatt, a keleti fronton volt munkaszolgálatos, amit sikerül átvészelnie.
Edzői tevékenységét már sportolóként megkezdte, majd 1937-ben a Testnevelési Főiskolán birkózómesteri vizsgát tett.1945-től haláláig a Magyar Olimpiai Bizottság tagja volt. 1948-ban rábízták a magyar birkózóválogatott 1952. évi olimpiára történő felkészítését. Egyúttal 1950-től a Budapesti Honvéd birkózó szakosztályának vezetőedzője lett. Tanítványai közül Hódos Imre és Szilvásy Miklós olimpiai bajnoki címet, Polyák Imre ezüstérmet, Gurics György bronzérmet nyert.
A sportággal tudományos alapossággal foglalkozott, 1949-től 1953-ig a Testnevelési Főiskola előadója is volt, hat szakkönyve jelent meg.
1982-ben munkásságáért átvehette az Olimpiai Érdemrendet, Juan Antonio Samaranch, NOB elnöktől. 1994-ben beválasztották az International Jewish Sports Hall of Fame tagjai közé.1996-ban Budapesten hunyt el.