Híres zsidó sportolók és sportvezetők Magyarországon
A Maccabi VAC minden héten bemutat egy hazai zsidó sportolót, sportvezetőt, metszénást, edzőt, aki meghatározó szerepet töltött be a magyar és az egyetemes sportéletben.
Sárkány Miklós,
(1908-1998)
kétszeres olimpiai bajnok vízilabdázó, szövetségi kapitány, edző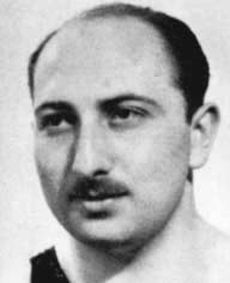 A Budapesten született Sárkány 1922-től a III. kerületi Torna és Vívó Egylet, 1938-tól az Újpesti TE úszója és vízilabdázója volt. Nemzetközi szintű eredményeit vízilabdában érte el. 1929-től 1939-ig hatvan alkalommal szerepelt a magyar válogatottban. 1932-ben, Los Angelesben és 1936-ban, Berlinben is tagja volt az olimpiai bajnokságot nyert magyar csapatnak.
A második világháború után, 1945-től 1947-ig a magyar vízilabda-válogatott szövetségi kapitánya lett. Irányítása alatt a magyar válogatott 1947-ben Európa-bajnoki 4. helyezést ért el. 1947-től 1958-ig az Újpestnél (UTE, Budapesti Dózsa, Újpesti Dózsa) volt edző. Csapata ötször (1948, 1950, 1951, 1952, 1955) nyert magyar bajnoki címet.
1958-ban a németországi Wuppertalban telepedett le. 1968 és 1973 között a Német Szövetségi Köztársaság vízilabda válogatottjának a vezetőedzője volt. Ezután haláláig Bécsben élt.
1990-ben beválasztották az International Jewish Sports Hall of Fame tagjai közé.