Famous Jewish athletes and sports leaders
in Hungary
Every week, Maccabi VAC presents a Hungarian Jewish athlete, sports leader, pruner, coach, who played a decisive role in Hungarian and universal sports.
Sándor Gellér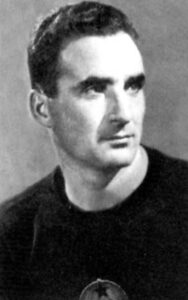 Sándor Gellér was a footballer and the number one reserve goalkeeper for the "Golden Team".
From 1945 to 1947, Gellér was the goalkeeper of the Püspökladányi SC, then until 1962, he
played defense in 260 championship matches in the MTK, Textiles, Bástya, Vörös Lobogó, and
once again in the MTK teams. He was a three-time champion (1951, 1953, 1957-1958), winner
of the Hungarian People's Republic Cup (1952) and Central European Cup (1955). In his last
season, 1961-1962, he reached the semi-finals with the team in the Vásárváros Cup. He is the
eternal champion of MTK.
Between 1950 and 1956, he was selected 8 times. He played defense for three, and played as
a substitute five times. In addition to Gyula Grosics, he was the number one reserve goalkeeper.
He also played on November 25, 1953, in a match of the century in London, as an alternate. He
was an integral member at the 1952 Summer Olympics in Helsinki and the 1954 Swiss World
Cup, but never appeared on the field, so he was not awarded a medal.