Famous Jewish athletes and sports leaders
in Hungary
Every week, Maccabi VAC presents a Hungarian Jewish athlete, sports leader, pruner, coach, who played a decisive role in Hungarian and universal sports.
György Bánki Elemér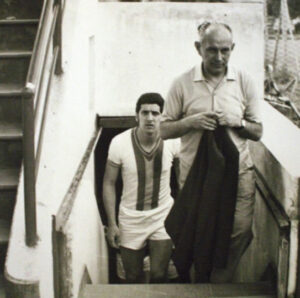 Football coach, sports manager, journalist, football specialist. He discovered and trained Diego Armando Maradona in the Argentine Junior  kid's leagues.
Elemér Bánki was born in Budapest in 1916. He was considered a talented football player, but like many others, World War II brought the end of his career.
He left Hungary, first lived in Israel, and arrived in Buenos Aires in 1959.
He became a football coach in the South American country. His first job was at Ascenso, then trained with many Argentine teams, including the Boca Juniors youth team, the All Boys, Newell's Old Boys, of course the Argentine Juniors, but we could also find him on the small bench at El Nacional in Ecuador.
At the 1978 Argentina World Championships, he was a chaperone and interpreter for the Hungarian national team. For the rest of his life, locals said he retained his very strange Hungarian accent, but had an excellent vocabulary in Spanish and wrote several books on football.
Hw wrote about training children (Buenos consejos – Para chicos con ilusion) while other books were more biographical (Detral del tunnel – 50 anos en el futbol, ​​i.e. Behind the tunnel, 50 years in football). His works were also used by the Hungarian sports press: he occasionally wrote articles for Népsport and Football, a monthly magazine.