Famous Jewish athletes and sports leaders
in Hungary
Every week, Maccabi VAC presents a Hungarian Jewish athlete, sports leader, pruner, coach, who played a decisive role in Hungarian and universal sports.
László Bellák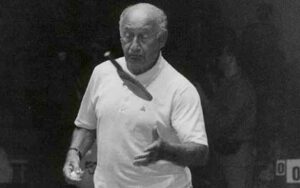 László Bellák (Budapest, February 12, 1911 – Miami, September 19, 2006) was a world champion table tennis player. From 1924, he was a table tennis player for the National SC and then for the FTC from 1932. He began his national team career in 1928. In the span of ten years, until 1938, he won a total of 21 world championship medals. Seven of them are gold medals. He lost three individual world championship finals against his compatriots (Zoltán Mechlovits, Viktor Barna). He was selected for the Hungarian national team 59 times. In 1936, he won two Hungarian championship titles. He settled in the United States in 1938, where, continuing his sports career, winning 6 U.S. championship titles. He retired from active sports in 1944. In 1950, he founded a printing house in Miami called Bellak Color Corporation. In 1990, Miami released his memoirs "Table Tennis: How a New Sport Was Born, The History of the Hungarian Team". He died in the United States.