Famous Jewish athletes and sports leaders
in Hungary
Every week, Maccabi VAC presents a Hungarian Jewish athlete, sports leader, pruner, coach, who played a decisive role in Hungarian and universal sports.
Ernő Erbstein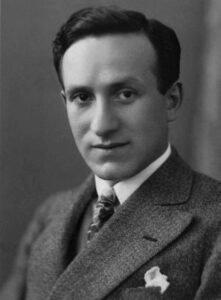 Ernő Erbstein, Egri-Erbstein, (Oradea, May 13, 1898 – Superga, May 4, 1949) football player, coach. He started playing football for the Budapest AK team in 1915. In 1924, he signed a contract with the Italian first division for the US Fiumana team. He continued his career with Vicenza this following season. From 1926 to 1928, he played for the Brooklyn Wanderers in the United States. This is where he finished active football career. His entire coaching career was tied to Italy. In 1928, he started working for the AS Bari team. He then worked briefly with Nocerina, the Cagliari team, and then returned to Bari. In 1933, he was contracted to the Lucchese team, where he was head coach for five seasons. In 1938, he worked for the Turin team as a coach. He returned to Hungary in 1939, due to the rise of fascism in Italy and his Jewish origin. He was among those saved by Raoul Wallenberg from certain death. He returned to Turin after World War II. This period is the most successful period in the history of the Turin club, referred to in the Italian sports press as "Grande Torino". During the 1948-49 season, he worked for the team as an assistant coach for Leslie Lievesley of England. He, along with most of the team, died on May 4, 1949, when their plane crashed into a basilica on Superga Hill, 675 m high, in preparation for a landing in thick fog near Turin.