Famous Jewish athletes and sports leaders
in Hungary
Every week, Maccabi VAC presents a Hungarian Jewish athlete, sports leader, pruner, coach, who played a decisive role in Hungarian and universal sports.
Kronberger Lili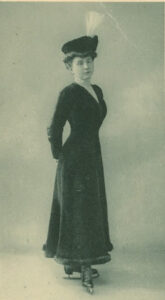 Kronberger Lily or Kronberger Lili, (Budapest, 1890 – Budapest, 1974) is a Hungarian pioneer of women's figure skating. She was born in Budapest into a Jewish family as the child of a wood merchant Miksa Kronberger (1857–1902) and Janka Kreisler (1867–1927). Her paternal grandparents were Mór Kronberger and Adél Kronberger (1832–1906), and her maternal grandparents were József Kreisler and Borbála Reif.
She is the first world champion of Hungarian sports. She was one of the first women to choose figure skating as her path. At first, she had to compete with men. She won bronze medals in her first two world championships in 1906 and 1907, and became world champion for the first time on January 26, 1908, in Troppau (now Opava), Silesia. She defended this title three times in Budapest, Berlin and Vienna. In 1911 she married Imre Szent-Györgyi, a court judge in Budapest. Due to her marriage, she finished her sports career and passed the baton to Zsófia Méray-Horváth.
The last World Championship in Vienna was the first figure skating race to be accompanied by music; this was the idea of ​​Zoltán Kodály. The domestic press did not like that she had more success than men, this was justified by the fact that they claimed she had hardly any rivals. Her reputation is known far and wide: the Jewish Sports Hall of Fame has ranked Lili Kronberger among its members in 1983, and has been a member of The World Figure Skating Hall of Fame since 1997.