Famous Jewish athletes and sports leaders
in Hungary
Every week, Maccabi VAC presents a Hungarian Jewish athlete, sports leader, pruner, coach, who played a decisive role in Hungarian and universal sports.
Viktor Barna
as Győző Braun (Budapest, August 24, 1911 – Lima, February 28, 1972)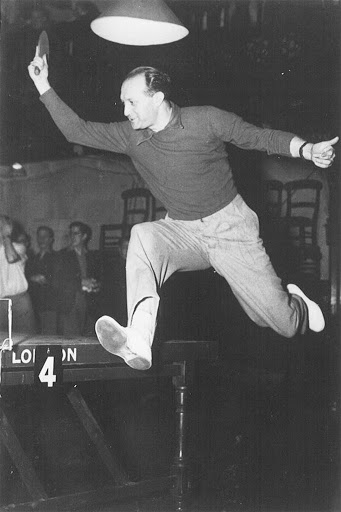 He was a 22-time world champion table tennis coach. From 1928, he was a table tennis player at
MTK (Hungarian Athletics Circle), and from 1934 at DSC (Duna Sport Club). From 1928 to
1938, he appeared in the Hungarian national team 83 times. To date, he is the most successful
competitor in the sport. Between 1929 and 1954, he won a total of 40 world championship
medals, including 22 gold medals. Five of the 22 world title titles were won by men in singles.
He won six of the eight men's gold medals in doubles with Miklós Szabados, one with Sándor
Glancz and one with Richard Bergmann from Austria. He won two world championship titles in
mixed doubles with Anna Sipos. He lived in France from 1935, and then in England from 1938,
but before the Second World War he competed in international competitions representing
Hungary. After World War II, he was granted English citizenship, and since then, has
represented England at World Championships. He won his last World Championship medals –
at the age of forty-three – in London, where he placed second in the men's doubles, second with
Michel Haguenauer of France, and third in mixed doubles with Rosalind Rowe of England. After
his retirement, he was the coach of the English table tennis team. As early as 1950, he became
head of the ball department at the Dunlop Rubber Factory, which, per his suggestion, began
manufacturing table tennis balls. He also founded his own company, which produced tables and
balls marketed under the Brown and Super Brown brands he designed. He has worked a
tremendous amount to spread the sport. After his retirement, he traveled the world and
promoted table tennis with spectacular performances. He passed away in South America.