Famous Jewish athletes and sports leaders
in Hungary
Every week, Maccabi VAC presents a Hungarian Jewish athlete, sports leader, pruner, coach, who played a decisive role in Hungarian and universal sports.
Rudolf Kárpáti
(Budapest, July 17, 1920 – Budapest, February 1, 1999)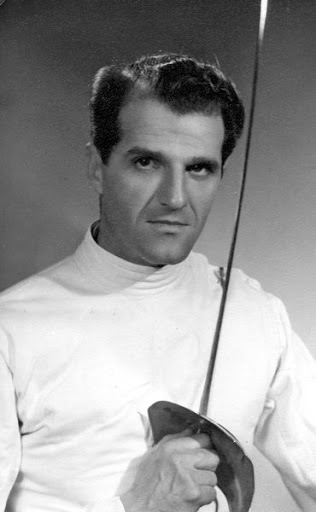 Six-time Olympic champion swordsman, competition judge, sports leader, military officer.
Kárpáti is one of the most successful athletes in the history of Hungary. His fencing was characterized by outstanding technical skills, a high degree of tactical maturity and an extraordinary sense of tempo, which was a direct consequence of his obvious musicality. He was a competitor of BBTE, Vasas and then the Budapest Honvéd team. Holder of 7 national championship titles, 2 in individual sword, (1948, 1955), 4 in team, and one in team duel. He won six gold medals at 4 Olympics, in London in 1948, in Helsinki in 1952, in Melbourne in 1956, and in Rome in 1960, both in a team and as an individual. A special feature in the history of the sport is that he was able to double twice (i.e. win both individually and in a team), previously only another Hungarian, Jenő Fuchs dr. succeeded in this feat (1908, 1912). He took the lead seven times at the World Championships, of which he proved to be the best in 1954 and 1959 individually, in addition to which he won 3 silver and 2 bronze medals. He won two gold medals at the World Cup. After his retirement, he served as an international judge until 1976, after which he was the chief judge of competitions. From 1961 to 1991, he was a member of the board of the Hungarian Fencing Association. In June 1963, he was appointed Chief of Army of the National Sword. Since 1977, he has been the president of the Budapest Fencing Association. In 1990, he was also asked to be the honorary president of the re-emerging BBTE. He was a board member of the MOB. He was chairman of the International Fencing Federation's sword committee and a member of its judging committee. In 1991, he was elected a member and first president of the Club of the Immortals, which he held until 1994. He has been a member and honorary president of the Hungarian Olympic Champions Club since 1993. He is a member of the Council of the Hungarian Olympic Academy and member of the Board of Trustees of the Santelli Foundation.