Famous Jewish athletes and sports leaders
in Hungary
Every week, Maccabi VAC presents a Hungarian Jewish athlete, sports leader, pruner, coach, who played a decisive role in Hungarian and universal sports.
Miklós Sárkány
(1908-1998) two-time Olympic champion water polo player, national captain, coach.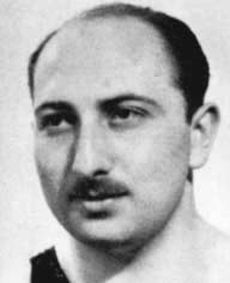 Sárkány, born in Budapest from 1922, was a swimmer and water polo player at the Újpest TE at the district Gymnastics and Fencing Association from 1938. He achieved international achievements in water polo. From 1929 to 1939, he participated in the Hungarian national team sixty times. In Los Angeles in 1932 and in Berlin in 1936, he was a member of the Hungarian team that won the Olympic championship. After the Second World War, from 1945 to 1947, he became the national captain of the Hungarian water polo team. Under his leadership, the Hungarian national team won the 4th European Championship in 1947. From 1947 to 1958, he was a coach at Újpest (UTE, Budapest Dózsa, Újpest Dózsa). His team won the Hungarian championship five times (1948, 1950, 1951, 1952, 1955). In 1958, he settled in Wuppertal, Germany. From 1968 to 1973, he was the head coach of the water polo team of the Federal Republic of Germany. He then lived in Vienna until his death. In 1990, he was elected a member of the International Jewish Sports Hall of Fame.