Famous Jewish athletes and sports leaders
in Hungary
Every week, Maccabi VAC presents a Hungarian Jewish athlete, sports leader, pruner, coach, who played a decisive role in Hungarian and universal sports.
Károly Kárpáti
(originally Kellner),
Olympic champion (1906-1996)
wrestler, coach, writer, sports leader.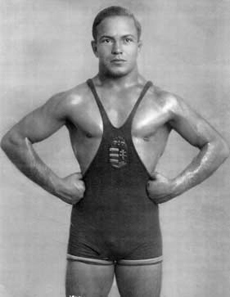 Born in Eger, Kárpáti started playing sports at the recommendation of his doctor. He dived for the Debrecen Swimming Association. He won a national championship in 1924 in this division. In 1923, a circus wrestler demonstration sparked his interest. From 1925, he became a wrestling competitor at the Debrecen TE. In the same year he became a national champion in wrestling. From 1926, he became a wrestler at UTE. He started in a grappling hold at the 1928 Olympics and finished fourth.
From 1927 to 1936, he participated in the efforts of the Hungarian national team a total of nineteen times. He was the first Hungarian wrestler to achieve significant results in freestyle wrestling in addition to tied wrestling, he is considered to be the creator of the Hungarian freestyle wrestling style. He is still the most successful Hungarian wrestler in the field of grappling.
At the 1929 European Championships in Paris, he won the first European freestyle wrestling medal. In 1930 and 1935, both times in Brussels, he won the European Championship gold medal. He took part in three Olympics, in Amsterdam in 1928, in Los Angeles in 1932 and in Berlin in 1936. He won a silver medal in his weight class in 1932 and a gold medal in 1936 against the German Wolfgang Ehrl. He retired from active wrestling after the 1936 Olympics.
Due to his Jewish origins, during World War II, he was sent to a labor camp on the Eastern Front, which he managed to survive. He started his coaching career as an athlete, then in 1937 he took a wrestling master's degree at the College of Physical Education. From 1945 until his death, he was a member of the Hungarian Olympic Committee. In 1948, he was commissioned to prepare the Hungarian wrestling team for the 1952 Olympics. At the same time, from 1950, he became the head coach of the wrestling department of the Budapest National Guard. Among his students, Imre Hódos and Miklós Szilvásy won Olympic championships, Imre Polyák won a silver medal and György Gurics won a bronze medal. He approached the sport with scientific thoroughness, from 1949 to 1953 he was also a lecturer at the College of Physical Education, and published six books. In 1982, he received the Olympic Order of Merit from his work, IOC President Juan Antonio Samaranch, for his work. He was elected a member of the International Jewish Sports Hall of Fame in 1994.
He died in Budapest in 1996.